Over ten years of existance in transport market Miil Ltd is effective and fastest container transport company in Estonia. We can actually say that – the amount of our clients and their complete satisfaction is the proof of it.
Our mission is to deliver clients container to requested point from port by doing it fast and without any kind of problems. We have experienced team and all kind of possibilities to solve issues quickly.
Sideloaders
Sideloader transportation is offered since year 2000.
Sideloader lifts 20';30';40'; 45' containers off and on with lift up to 32000kg. By today Miil OÜ has six sideloaders and two of them are in use over at Latvia.
Backloaders
Miil Ltd bought in May 2001 container dump truck for providing better service to our clients. There isn't another that kind of truck in Estonia.
Within help of dump truck we can lift 20′ sea containers off from our trucks and set them into upturned position. We can aswell pick up containers from upturned and upright positions up to weigh of 25000kg. Since 2006 spring we have that kind of trucks 2.
In the end of 2008 we got third container dump truck. Since 2009 February that truck works in Latvia
We can use new device to incline containers to get cargo from inside. Dump truck device is controlled by driver via remote control using radio transmitter.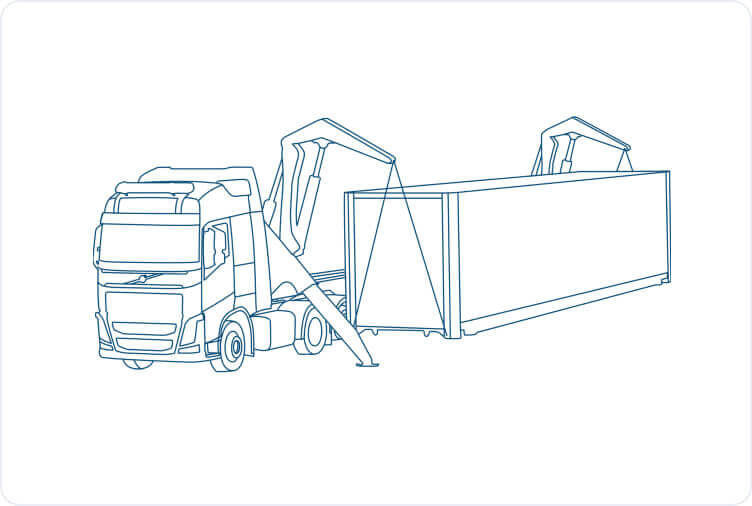 Clients
Miil Ltd is best container transport company in Estonian market. So our clients and partners are best at their working area aswell. In addition to our well provided services and high qualification crew we are proud to confirm that we do not leak any kind of information.
We have fully locked information database so our clients may feel safe and shouldn't worry about competition. We have built our service over trust – we trust our clients and partners, they trust us.
With our information lock and not to leak any kind of information promise we don't publish names of our clients. But we assure they are best at their working area and they require always best possible service which Miil Ltd offers. We are confidential and trustful!
Miil Ltd does not deal with sea transportation and expedition.  But sure we could find you best provider since sea transportation and expedititors are giving us work to do. So we have reason to belive if one expeditor gets about 20 containers per week from China then that's right for you to bring cargo from China. (aswell with other destinations) Ask price, we will send it forward and find the RIGHT ONE.