OÜ Miil became operational in 1990, however, the roots of the company go back as far as 1985 when we acquired our first lorry. In the last 30 years, we have developed a company that is dedicated to offering high-quality, efficient and fast transport that meets the seven 'rights' of logistics: delivering the right product, in the right quantity and the right condition, to the right place at the right time for the right customer at the right price. Miil OÜ has been certified to ISO 9001:2015 and ISO 14001:2015 standards, which were issued by Bureau Veritas. With more than 30 years of experience in the transport market, OÜ Miil is the fastest and most efficient road transport company engaged in container transport in Estonia.
In order to provide the highest quality service, we only focus on the transport of shipping containers, tank containers and oversized cargo. We currently offer transport within the European Union. The primary directions include Estonia, Latvia, Lithuania, Sweden and Finland. To support the transport service, we also offer container terminal and container depot services to our customers.
In the container terminal of Miil OÜ, we offer the following services:
* Loading and unloading of shipping containers (including loading of vehicles in containers)
* Fumigation of shipping containers
* Storage of storage containers
* Storage of shipping containers
* Cleaning and repair of containers
* Neutralisation of shipping containers
* Electrical heating of tank containers
* Steam heating of tank containers
* Rental of container trailers
* Conversion of containers
* Painting of containers
Thanks to our extensive experience and daily activity in the field of container transport, we are experts on all things container-related. In addition to the above, we also sell new and used shipping containers, storage containers, portable cabins, portable toilets, and security fencing. Our selection includes a wide variety of different solutions, such as fireproof containers. Our list of services also includes the conversion and painting of containers, as well as special container solutions for advertising purposes and much more besides. We have more than 200 shipping containers readily available in storage at all times and it is possible to come see them in person. If a suitable product is not currently in stock, we can order it from Europe (delivery 2 to 3 weeks) or Asia.
We also offer (short- and long-term) rental of shipping containers and the rental of trailers for the transport of containers.
Sideloaders
We have offered transportation with sideloaders since the year 2000. Sideloaders are capable of loading and unloading 20′, 30′, 40′ and 45′ containers with a weight up to 32,000 kg. Miil OÜ currently owns six sideloaders, two of which are in use in Latvia. Read more about sideloaders here.
Backloaders
In order to better serve its clients, in May 2001, OÜ Miil acquired a backloader – the only one of its kind in Estonia, Latvia and Lithuania.
With the help of a backloader, it is possible to unload 20′ containers weighing up to 25,000 kg from vehicles and position them vertically, as well as load both vertically and horizontally positioned containers onto the vehicle. As of spring 2006, we had two backloaders.
At the end of 2008, we purchased a third backloader. As of February 2009, this vehicle has been operating in Latvia.
As of 2020, we have a total of four backloaders, one of which is located in Latvia.
Backloaders can also be used to tilt containers to gain access to the goods. The lifting mechanism of the truck is controlled by a driver via remote control using a radio transmitter.
Read more about backloaders here.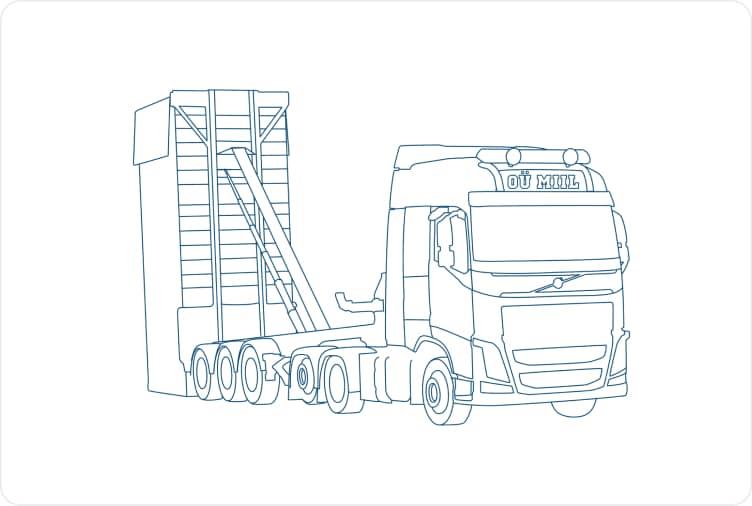 Clients
OÜ Miil is one of the best container transport companies on the Estonian market, thus our partners and clients also include the best players in the field. In addition to our excellent services and highly qualified team, we can guarantee complete confidentiality.
No information will leak from us – our clients can feel safe and secure when using our services, without having to worry about their competitors. Our company is built on trust: we trust our clients and partners, they trust us.
Due to our promise of confidentiality and no-leak policy we will not publish the list of our clients, but we can confirm that they are all the best players in the field who always want to receive the best service. This is exactly what OÜ Miil offers. We are confidential and reliable!
OÜ Miil does not provide sea transport and freight forwarding services. However, we can find you the best provider because sea transport and freight forwarding companies are exactly who we provide our services to. For instance, if a freight forwarder receives 20 containers from China each week, they could be the ones transporting your goods from China (and the same applies to other destinations). Ask for a quote, we will forward it and find you the BEST provider.
ISO 9001:2015 and ISO 14001:2015
As of 2020, Miil OÜ implements measures that ensure compliance with ISO 9001:2015 and ISO 14001:2015 standards. The management board of the company has established the following guiding principles regarding our purpose, quality of services, and environmental beliefs:
we deliver on our commitments,
we avoid and prevent emergencies,
we foster sustainable practices,
we promote the sustainable use of fuel and energy resources,
we prevent and reduce environmental pollution.
We take our commitment to compliance very seriously.
In the provision of quality transport service, we follow the seven 'rights' of logistics (right product, right time, right place, right quantity, right condition, right customer, right price).